Are your Snapchat alerts not working properly on your iPhone? It can be very frustrating when this situation occurs, but do not worry!
In this article, we'll examine the most common causes and explanations for why Snapchat notifications aren't working on your iPhone. We'll investigate potential fixes to make sure you never miss any snap, whether it's due to an app bug, device settings, or network connectivity.
Why are Snapchat Notifications Not Working?
Inactive Snapchat alerts can be a frustrating issue for iPhone users. These alerts are essential for staying in touch with friends and getting timely app updates. It can be inconvenient when they stop working. There are several common causes for this problem:
1. App Settings
Snapchat's settings can sometimes cause problems. Users may unintentionally turn off the app's notifications, or the app itself may have a fault that stops alerts from being sent.
2. Device Settings
Snapchat notifications can also be affected by iPhone settings. Users should check that the settings on their devices are set up properly to accept notifications from Snapchat. Checking the "Notifications" settings and ensuring the app has the required permissions is necessary.
3. Do Not Disturb Mode
Snapchat notifications are silenced when your iPhone is in "Do Not Disturb" mode, along with all other notifications. Make sure this mode is not accidentally active.
4. Network Connection
Snapchat notifications might fail to arrive on time due to a shaky or inconsistent network connection. For quick notification arrival on your iPhone, ensure your internet connection is reliable.
5. App Update
Running an old version of Snapchat could lead to notification problems. To make sure the software works effectively, it must be kept up to date.
6. Background App Refresh
Snapchat won't receive new updates or notifications if the background app refresh is turned off when the app isn't being actively used. Ensure that this function is turned on in your device's settings.
7. Notifications Queue
Your notifications can sometimes get stuck in a queue if you've received a lot of snaps or messages, which could cause delays.
8. Software glitches
Snapchat or iOS itself may experience software issues that prevent notifications from being delivered. Keeping your iOS device and Snapchat app updated will help resolve this problem.
9. Account-specific issues
Notification failures occasionally result from issues particular to a given account. If all else fails, it's a good idea to log out and log back again into your Snapchat account.
10. Reinstalling Snapchat
Reinstalling Snapchat can resolve continuous notification issues as a final option. Just be cautious to back up your conversations and memories before doing so.
How to Fix Snapchat Notifications?
Using the previously mentioned common reasons, consider the following solutions for Snapchat notifications:
1. In-app Settings
Open Snapchat and go to your profile.

Tap the gear symbol in the top right corner to access Snapchat settings.

"Notifications"

are located once you scroll down.

Ensure the necessary actions (such as messages, stories, etc.) have notifications turned on.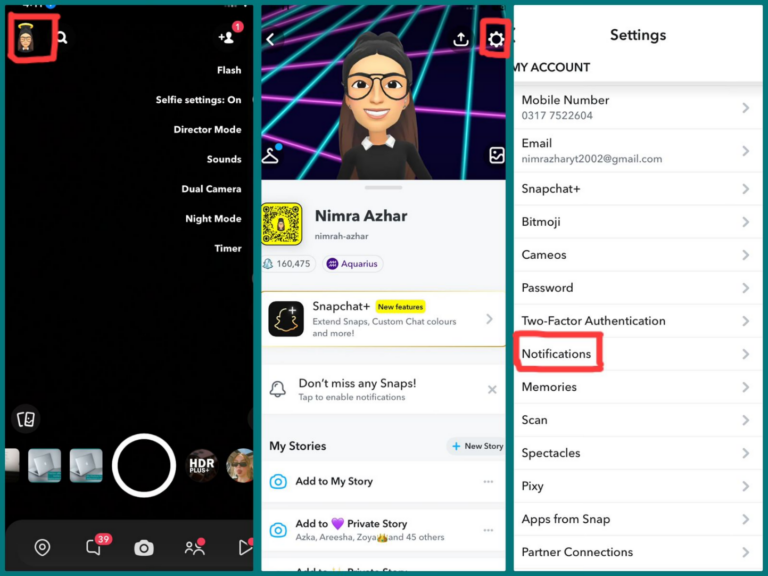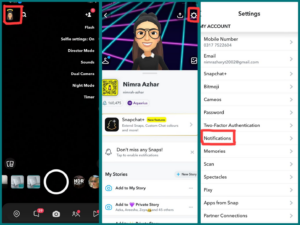 2. Allow Notifications for the Snapchat App
Go to the settings on your iPhone.

Go down the page and click

"Snapchat."

Make sure Snapchat has notifications turned on.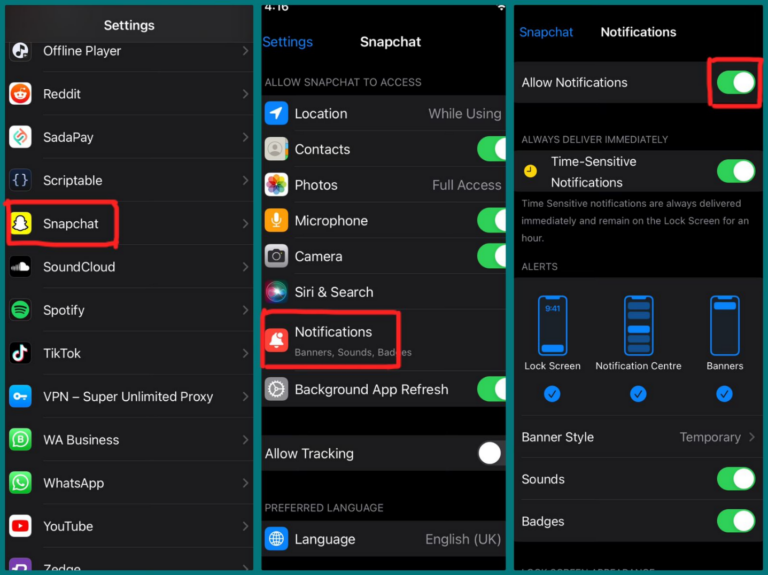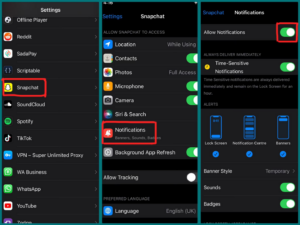 3. Do Not Disturb Mode
Swipe downward from the top-right corner to access the Control Centre.

Verify that the

"Do Not Disturb"

indicator, which resembles a crescent, is not selected. Tap it to turn it off if it is.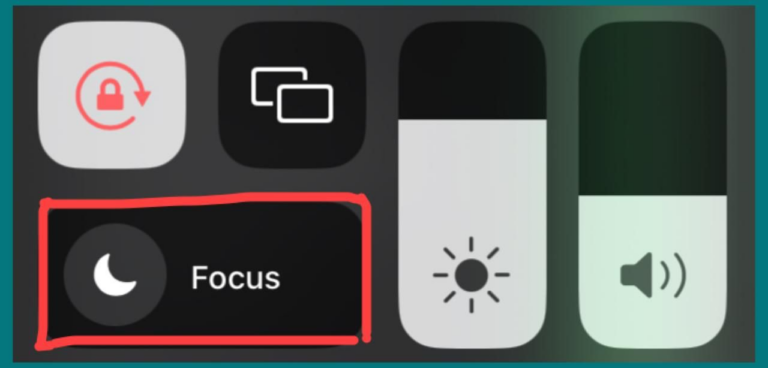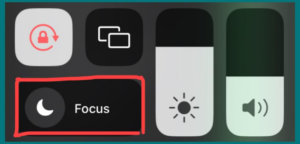 4. Network Connection
Check if your iPhone is linked to a secure cellular data or Wi-Fi network.
5. App Updates
Check out the App Store.

Look up Snapchat and click

"Update"

if there is a new version available.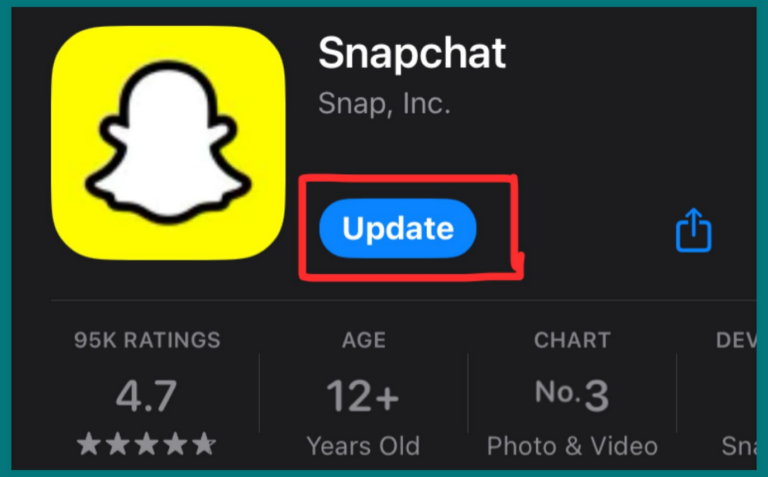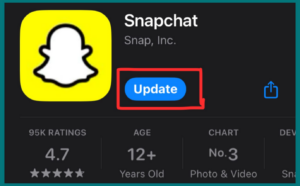 6. Try Enabling the Background App Refresh Feature
It would be best if you first ensure that background app refresh is enabled for Snapchat. The steps below will show you how to enable Background App Refresh on your iPhone.
Go to Settings and tap on General.
Then, scroll down and tap on Background App Refresh.
Toggle the switch to ON next to Background App Refresh.
A list of apps that can take advantage of Background App Refresh will appear.
Find Snapchat and Toggle the switch to ON next to the app.
Background App Refresh is now enabled for your iPhone.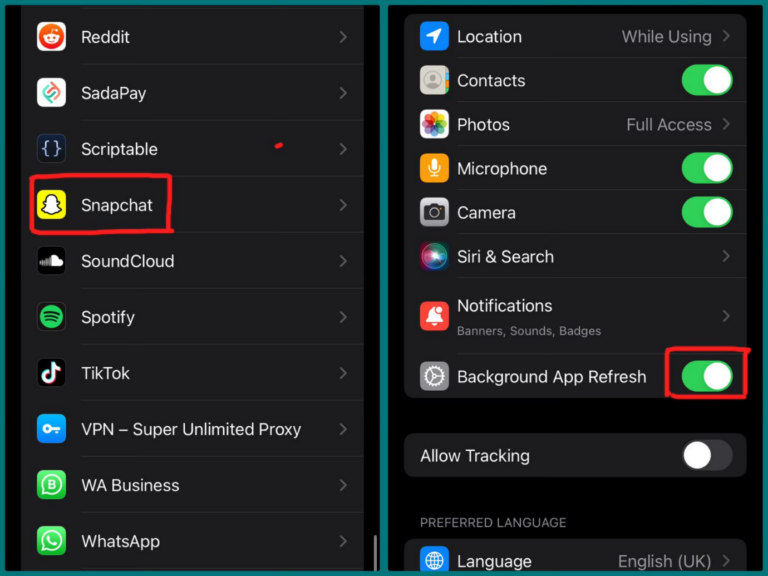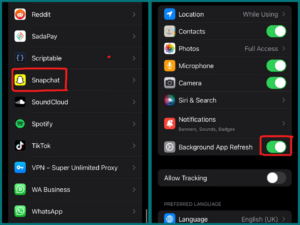 If it's not on, turn it on and see if your notifications start coming through correctly.
7. Queue for Notifications
If you have a backlog of notifications, open Snapchat to empty the queue.

On the chat screen, swipe right to mark messages as read.
8. Software Glitches
Install any updates for iOS as soon as they are made available.

Try restarting your iPhone if you think there could be a bug.
9. Account Issues
Log out of Snapchat by going to your profile, clicking the gear icon, scrolling down, and choosing 'Log Out.'

Re-login with your credentials.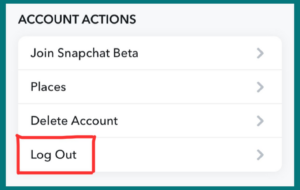 10. Reinstalling Snapchat
Snapchat must be uninstalled on your iPhone.

Download Snapchat again from the App Store.

Your notifications should function properly after you log in using your account information.
11. Try Signing-Out and Then Sign-In in Again
If you're still not getting Snapchat notifications, try signing out of the app and then signing back in again.
To do this, go to Settings > Account > Logout. Then open up the Snapchat app and sign back in with your username and password. This should fix the problem!
12. Clear Snapchat App Cache
If you've tried all of these solutions and you're still not getting notifications, you can try clearing the Snapchat app cache. To do this,
Open Snapchat.
Tap on the Menu icon in the top-left corner of the screen.
Select "Settings."
Scroll down and tap on "Clear Cache."
Tap on "Clear Cache" again to confirm.
That's it! Your Snapchat app cache will now be cleared.​
13. Allow Snapchat to Use Background Data
Next, ensure that you've allowed background data usage for the app. To do this,
Go to Settings -> Cellular.
Please scroll down to the apps list and locate the Snapchat app to allow background data for it.
Toggle the switch next to the app so that it turns green. That's it – the Snapchat app will now be able to use background data.
Background app refresh is a great way to keep your apps up to date, but it can also quickly drain your battery if you're not careful.
14. Check Focus Settings for the Snapchat App
The next thing you can check is your focus settings. To do this, go to Settings > Notifications > Snapchat and make sure that the "Focus" setting is turned on. This will ensure that you only receive notifications from people on your friend's list.
You can increase your chances of fixing the problem and getting timely notifications back on your iPhone by addressing these common issues with Snapchat notifications using the recommended solutions.
After attempting these fixes, you can consider contacting Snapchat support or Apple customer service if the problem persists.
Does Snapchat Work the Same on iPhone as On Android?
Regarding essential features, Snapchat provides a similar experience on iPhone and Android devices. However, due to changes in these platforms' operating systems and hardware, there can be minor differences in performance, user interface, and updates.
Snapchat's core functionality is the same on iOS and Android devices, despite possible changes in camera quality, app performance, and how specific features are implemented.
Conclusion
In the end, adjusting app and device settings, network connectivity, and software updates are all necessary to fix Snapchat notification issues on an iPhone. Users can enjoy uninterrupted alerts, maintain contact with friends, and have a flawless Snapchat experience by carefully fixing the common causes mentioned.
If you're not getting Snapchat notifications on your iPhone, you're not alone. Unfortunately, this is a common problem that many people experience. Thankfully, there are a few methods you can try to fix it. This article will discuss how to fix Snapchat Notifications Not Working on your iPhone!