Want to know when your iPhone was last used ? Investigating your device's usage history can provide insightful information.
This article will explain how to find out when your iPhone was last used, whether for security reasons or out of curiosity and can be useful. Apple, fortunately, provides simple ways to retrieve this data, giving you access to a history of previous interactions with your device.
Is There a Way to Check when My Phone Was Last Used?
Is it possible to determine the most recent time your phone was used? The answer is Yes. Investigating this question can reveal interesting information about how your device is used.
Discovering the time of your phone's last use, whether motivated by security worries or simple curiosities, can reveal useful details about its interactions and status.
Reasons to Determine the Last Usage
There are various convincing reasons why someone might want to discover when their device was last used.
1. Securing Assurance
Identify any unauthorized access or unusual activities by looking up your device's last use. This is important for preserving the privacy and security of your personal data.
2. Analysis of Battery and Performance
Knowing when your device was last used might help in diagnosing battery drain and performance issues. You can use this information as a guide to optimize your device's settings and usage patterns.
3. Device Lost or Stolen
If your device is lost or stolen, knowing when it was last used may help you trace your steps back to it and maybe get it back.
4. Monitoring Use
Parents and guardians may want to keep note of the last time their child used their device to guarantee responsible use and successfully control screen time.
5. Data tracking
Some users might be curious to keep tabs on their own internet usage trends and behaviors. Understanding how frequently people use personal technology can be helped by knowing when the gadget was last used.
6. Maintenance Scheduling
Knowing the last time a device was used might help IT workers who manage several devices schedule maintenance work and updates without disturbing users.
7. Criminal investigations
While investigating, law enforcement officials may need details about a device's most recent usage.
8. Curiosity
Curiosity or the urge to keep track of one's interactions can often lead to the simple desire to know when your gadget was last used.
Regardless of the cause, knowing when your device was last used can provide insightful information and peace of mind in various situations.
How Do You Check when The iPhone Was Last Used?
There are many ways to determine when an iPhone was last used. Here, we'll go over various methods for getting this information.
Method 1. Check Last Used Date Through Storage Settings
Follow these procedures to find out when your apps were last used:
Open the Settings app on your iPhone to access the settings menu.

Depending on your device, scroll down and hit "General."

Choose "iPhone Storage" or "iPad Storage."
Select View Last Used Date to locate a list of installed programs and how much storage they use. In addition, each app's "Last Used" date is displayed here, giving you information about current activity.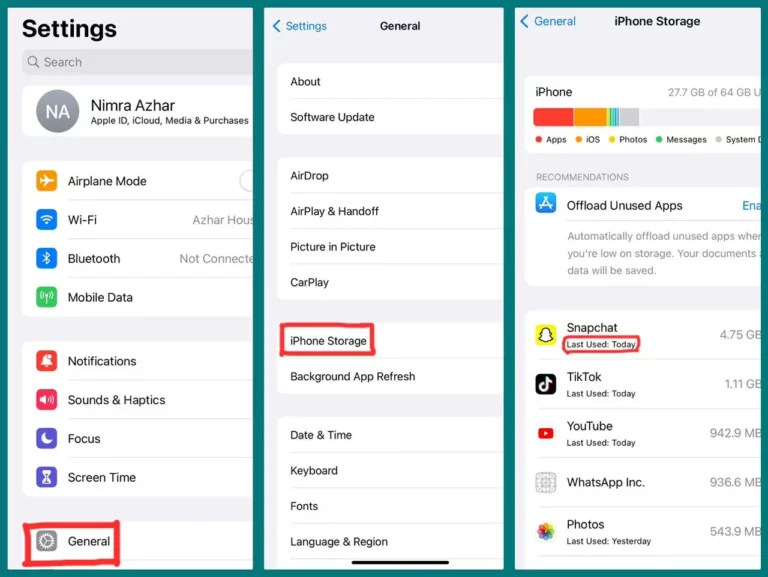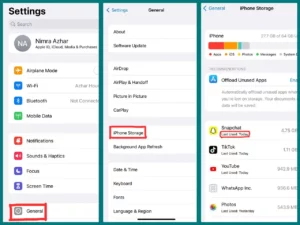 Method 2. Monitor Device Usage via Screen Time
Consider using the Screen Time feature to learn more about how you are using your smartphone and apps.
Turn on Screen Time by going to the settings on your device and selecting "Screen Time."

You can access extensive information about your app and device usage within the Screen Time settings.

In addition to the breakdown of app usage, you'll find the most recent time you picked up your device, providing a window into your most recent engagement.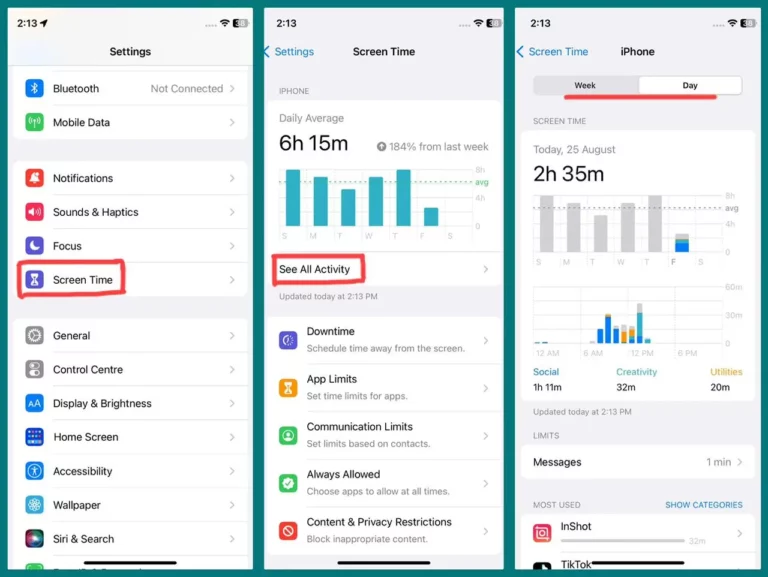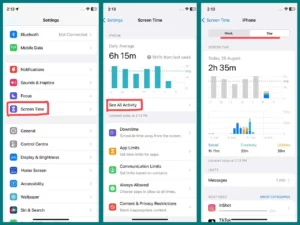 Method 3. Stats on Battery Usage
Use these steps to analyze recent app activity:
Go to "Settings" and then "Battery."

Discover how much battery is being used by each app, along with the

"Last 24 Hours"

or

"Last 10 Days"

of usage.

Discover which apps were in use during these times, giving you an overview of recent usage trends.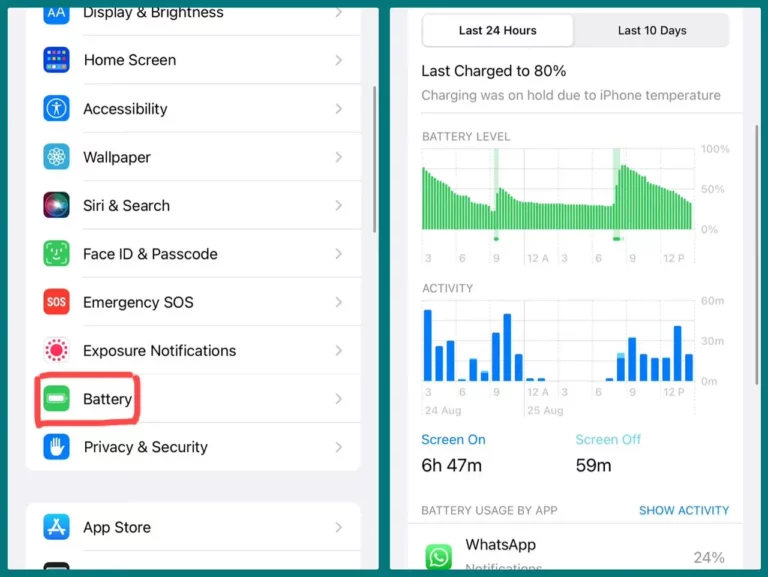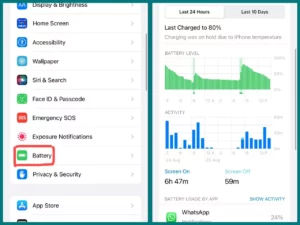 Method 4. Find My App
Utilize the "Find My" feature to track device usage.
Use an additional device or the iCloud website to access the

"Find My"

app if enabled.

Find out when and where your device was last known to be.

This data provides insightful hints about how recently your device has been used.
Method 5. Notification Center
To quickly assess recent app activity:
Open the Notification Centre on your iPhone and swipe down from the top of the screen.

Examine recent app alerts to get a general idea of when these apps were last active.

This fast technique provides a summary of current app interactions.
Method 6. Siri Suggestions
Use Siri's app usage insights to your advantage:
On your home screen, swipe right to access Siri Suggestions.

Investigate app recommendations based on your usage history, possibly including recently used apps.

You may easily access recent app usage with the help of this functionality.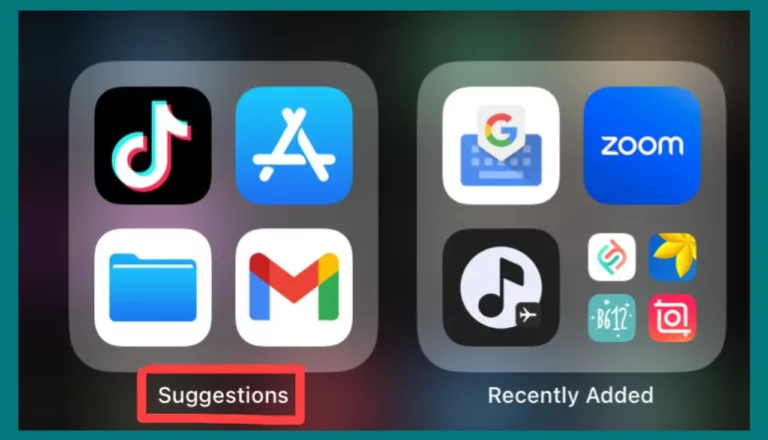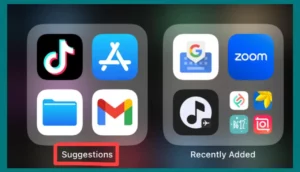 How to Check Recent Activity on iPhone & Total Usage Time
The Screen Time function on an iPhone allows users to view recent usage data and overall usage time. This is how:
1. Open Settings
Launch your iPhone's "Settings" app to access the settings menu.
2. Go to "Screen Time."
Scroll down and select "Screen Time."
3. View Screen Time Data
A bar graph showing the usage of your device over the previous 24 hours can be found at the top of the Screen Time page.
There are sections labeled "Today" and "Week" on the graph.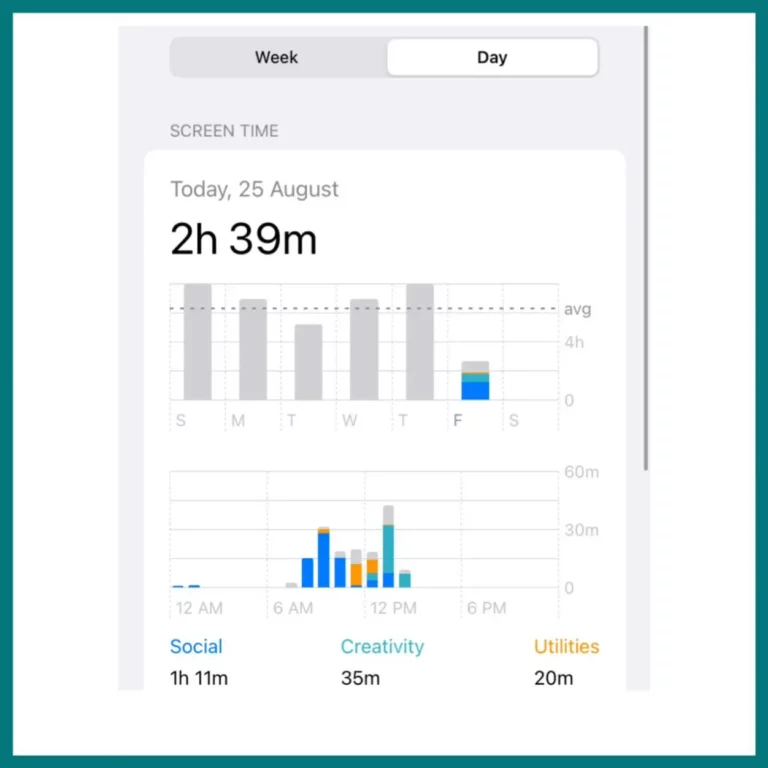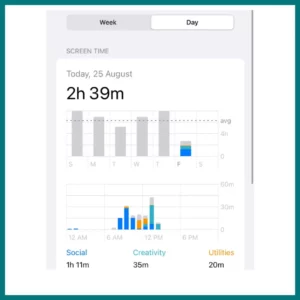 4. View App Usage Details
In the "Today" area, you'll find a list of the different app usage categories and the amount of time spent on each.
Tap on a category or app to view more specific statistics, such as usage duration and pickup counts.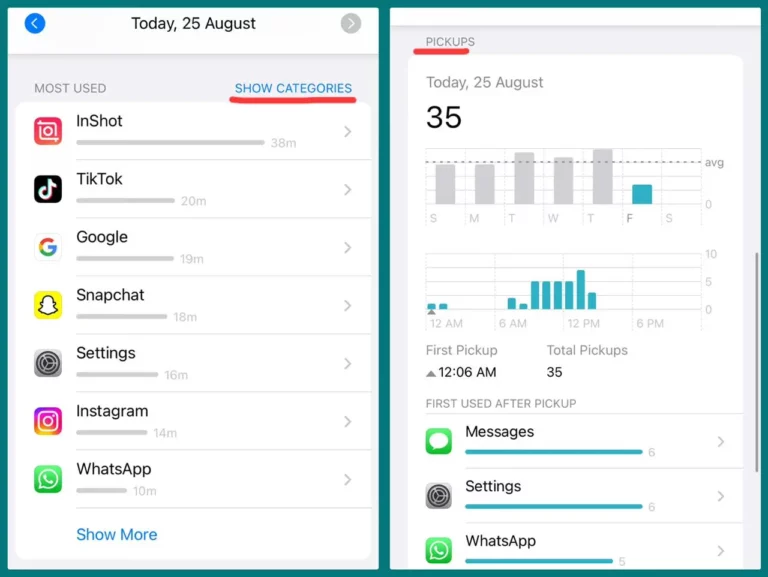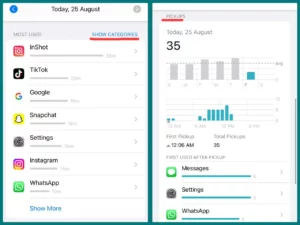 5. Total Usage Time
Locate the "Total Screen Time" column to see how much time you spent using your devices overall each day or week. This gives you a summary of how much time you spent using your smartphone within the given time.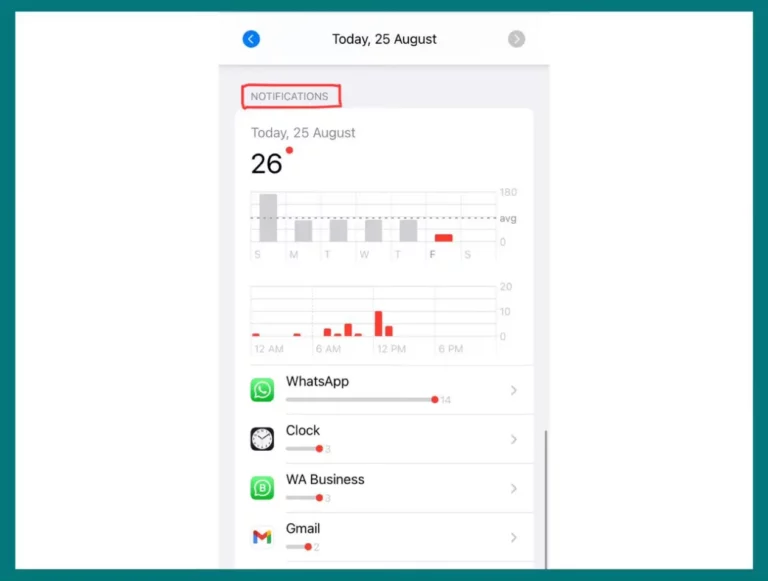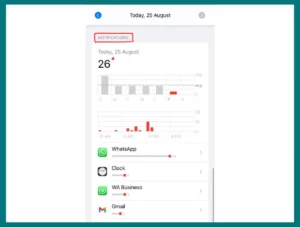 6. Review alerts and Downtime.
If "Downtime" is enabled, you can check information about the number of alerts you've received as well as the amount of time you spent using your smartphone.
By following these steps, you can learn more about your recent activities, app usage, and overall iPhone screen time. You can track your device usage using this information, set boundaries, and keep a good balance between screen time and other activities.
Conclusion
Understanding iPhone usage is essential in a society where technology is everywhere. Diverse techniques reveal details about recent behavior, from analyzing app interactions to monitoring battery usage. Tools like Screen Time provide comprehensive control, encouraging a healthy digital lifestyle while promoting security and effectiveness.