Have you ever been in a situation where your iPhone screen randomly went black? It's a common problem that many iPhone users experience, but the causes can differ.
In this article, we'll look at some of the potential reasons behind the issue and offer workable fixes.
Reasons Why iPhone Screen Randomly Goes Black
These are some common reasons that can lead to the iPhone Black Screen of Death Issue:
1. Hardware Issue
Hardware problems are one of the most frequent causes of iPhone screen turning black. In these circumstances, the parts between the motherboard and the screen are prone to damage.
A black screen or an entire failure to turn on may result from hardware problems.
Types of Hardware Issues Affecting iPhones
Some common types of Hardware Issues Include:
Impact-Related Hardware Issues
Caused by vibration and drops.
Issues include damage to the screen, button issues, or internal component dislocation.
Cracked screens can result from physical damage and may affect the display, potentially leading to black screens on iPhones.
Temperature-Related Hardware Issues
Caused by resource-intensive tasks, using the phone in a hot environment, or continuously using the phone for an extended amount of time.
Power-Related Hardware Issues
Linked to batteries.
Issues include low Battery health, erratic charging, or poor power management.
2. Software Issues
If you don't discover any hardware problems, the problem is then a software one. Some of the most common software problems include.
Firmware Issues
Firmware update failures can occur when attempting to update the iPhone's software, leading to various issues, including a Black screen of death.
iOS Bugs and Glitches
iOS bugs or incompatibilities can cause glitches and malfunctions in the operating system, affecting the iPhone's performance. Various bugs can cause iOS crashes leading to the screen going black.
Storage Issues
Full iPhone storage can lead to software-related problems, as insufficient storage can hinder the device's functionality.
Battery Issues
Dead batteries can cause the iPhone to turn off or display erratic behavior, including black screen problems.
Compatibility Issues
Software problems can manifest as app compatibility issues, where certain applications may not work properly on the iPhone. This can cause the iphone screen to go black, especially when using these apps.
You are now aware of the reasons why your iPhone screen randomly goes black. From this point on, I'll explain How to Fix the iPhone screen going black.
How to Fix iPhone Screen Randomly Going Black?
To fix you iPhone problem you need to
1. Charge your iPhone
Although it may seem obvious, make sure your iPhone's battery isn't simply dead before you freak out. An iPhone that is not charged will usually flash the empty battery icon when you attempt to interact with it.
The screen could go completely blank if the battery is completely dead.
Connect your iPhone to a functional charger and wait at least 10 minutes. When you return, you can proceed to the next solution if it is still off.
2. Hard Reset your iPhone
Every iPhone has a set of buttons that, when pressed together, "hard reset" the device, turning it off and back on. Depending on the model of iPhone you have, the exact combination varies.
On iPhone 8 and newer: Press and hold the side button while simultaneously holding the volume up and down buttons.
iPhone 7 or 7 plus: Press and hold the volume down and lock buttons until the Apple logo appears.
On iPhone 6s and earlier: Press and hold the Home and Lock buttons simultaneously and wait for the Apple logo appears.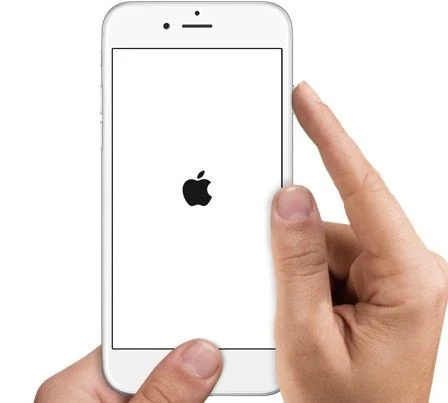 If the Apple logo doesn't appear, move onto the next solution.
3. Use iMyfone Fixppo App
There could be an issue with your iOS if your iPhone's screen is dark but still functional. In this case, you must choose a reliable solution that will fix the iOS problem without erasing your device's data. The most effective solution is iMyFone iOS System Recovery.
This solution is also the best fix for an iPhone, iPad, or iPod that stops in recovery mode, stuck on the Apple logo on the screen, has a black or white screen, is experiencing app crashes, or has other issues, such as when iTunes fails to restore your iPhone and encounters errors.
Backup your data using iTunes before using this software as this software will completely delete all your data. After completely wiping your iPhone, this tool will fix serious iOS problems by installing the firmware again.
Step 1: Install and run iMyFone Fixppo on your PC or Mac. Next, connect your iPhone to your computer using a USB cable. Now, from the iMyFone home screen, tap on "Standard Mode."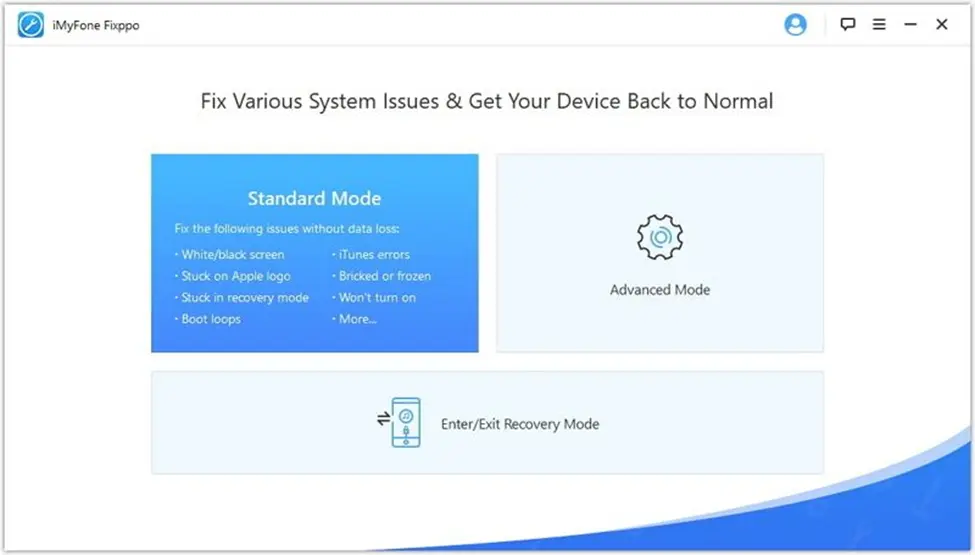 Step 2: To begin repairing your iPhone, you will now see a promt to enter "DFU Mode" or "Recovery Mode." To enter DFU mode or Recovery Mode on your iPhone, you must follow the onscreen instructions.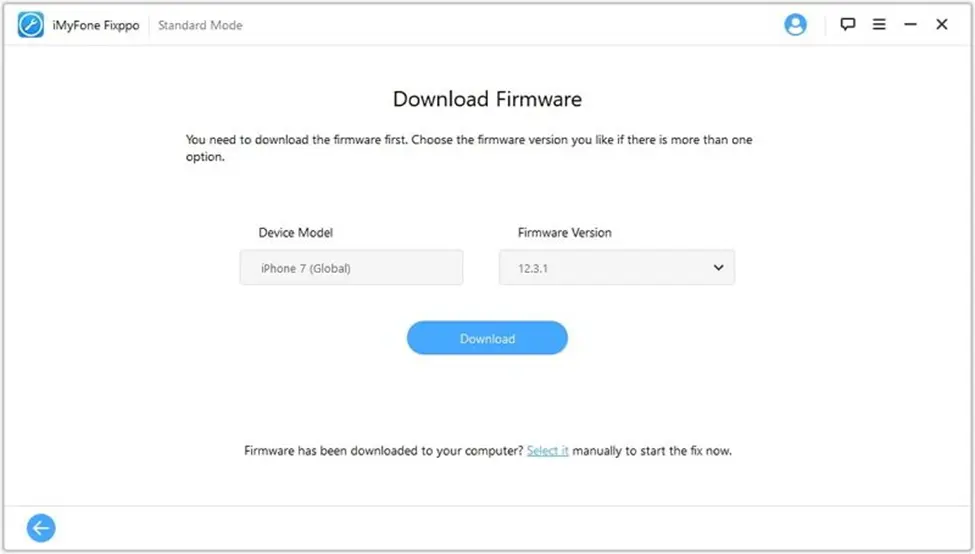 Step 3: After entering DFU mode, your iPhone will identify the best firmware for it. To install download and the firmware, click "Download."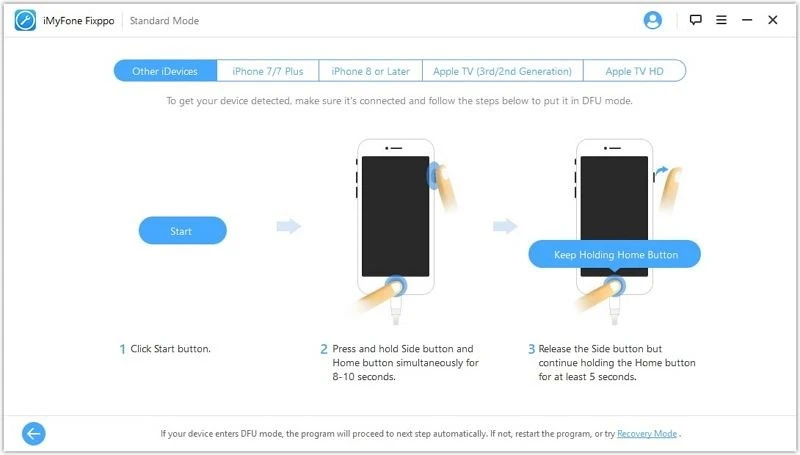 Step 4: Tap the "Start to Fix" button after installing the firmware. The device will automatically begin to be fixed, restoring functionality.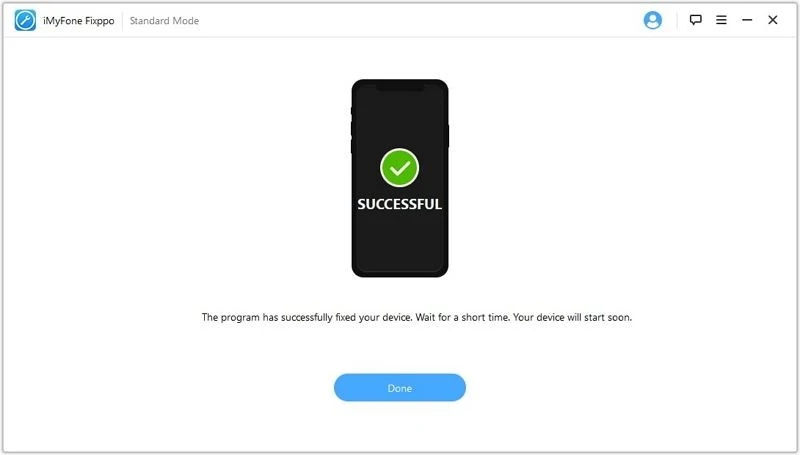 4. Recovery mode
You can connect your iPhone to a computer using the recovery mode feature to have the computer fix it using iTunes or Finder. It typically accomplishes this by installing a brand-new copy of iOS, the operating system for your phone.
Connect your iPhone to a computer using a USB cable, then perform a hard reset to enter recovery mode. Next, decide whether to update or restore the phone using Finder or iTunes.
Contact Apple Store
If you have tried all the solutions, and your iPhone screen is still black but on, there may be a hardware issue. It's possible that the device's display connector or cable has failed or that there are other serious hardware problems.
To get it checked out by authorized Apple staff and get the problem fixed, you must rush to the closest Apple Store.
Conclusion
In conclusion, your iPhone screen randomly goes black due to various causes, including software bugs, hardware issues, or even a low battery.
But using the troubleshooting techniques and fixes described in this article, you can take back control of your iPhone and put an end to the annoying black screen problem.