Have you ever questioned how to return your device to uninterrupted navigation by turning off Siri while using Maps? If yes, then dont worry.
In this article, we will learn how to easily disable Siri in Maps so that you can travel without interruption to your destination. Leave interruptions behind and take command of your navigational experience.
How Siri Works in Maps?
Siri's interaction with Maps has revolutionized navigation. You may easily navigate, get up-to-date instructions, and even make hands-free calls while driving using voice commands.
The need for human input is eliminated when you ask Siri to discover a location or give directions, improving safety. Because Siri can translate natural language, you can ask inquiries such as, "Where's the nearest petrol station?" and get immediate answers.
Your demands are anticipated by its proactive suggestions informing you of traffic conditions, expected arrival times, and alternate routes. You can keep your eyes on the road while being informed, thanks to the smooth interplay between Siri and Maps.
However, turning off Siri's voice guidance is essential if you prefer silent navigation. Siri's function in Maps is an excellent example of how technology and pragmatics are combined for modern navigation, balancing ease, and customization.
Can You Turn Off Siri in Maps?
If you want a quieter navigating experience, you can turn off Siri in Maps.
This gives you more control over your travel and ensures a distraction-free driving or navigation session by enabling you to navigate without voice guide interruptions.
How to Turn Off Siri in Maps
You can try the following 2 methods to turn Siri off in maps.
1. Activate or Deactivate Spoken Directions
The steps below can be used to control Maps' spoken directions:
Locate and tap the audio button on the map screen.

You'll have a choice between three things:
All Directions:

This choice delivers spoken instructions for each of your journey's steps.

Alerts Only:

This option will only deliver spoken alerts relevant to driving.

No Directions:

Selecting this option silences all spoken instructions.
2. Change Additional Preferences for Spoken Directions
By going to your device's settings, you can make the following extra spoken directions settings:
Find Spoken Directions under

Settings > Maps>Siri & search.

You can turn on or off the following choices in this menu.
Directions Pause Spoken Audio:

This setting stops other spoken audio (such as podcasts or audiobooks) during navigation instructions.

Directions Wake device:

By turning on this setting, your device's display will come to life when you receive spoken directions when riding a bike or driving.

Radio directions:

If your vehicle is compatible, activating this setting enables spoken directions even when the radio is playing.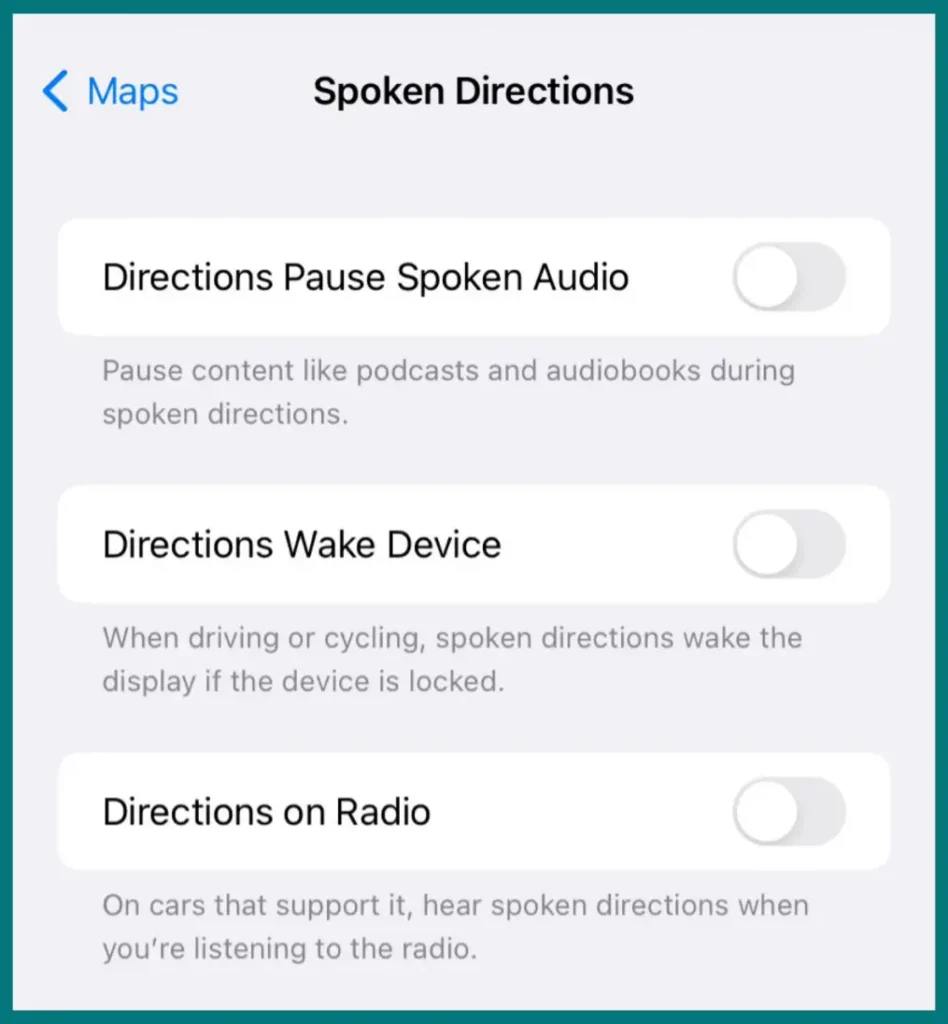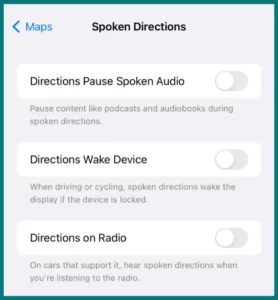 Turning off all these options may also help you turn off Siri in maps. You can personalize these options to make your navigation in Maps more convenient and distraction-free while aligning it with your tastes.
Conclusion
Finally, learning to disable Siri in Maps gives you more power and control over your navigational experience.
These settings can be adjusted to suit your preferences, whether you prefer total silence or only certain warnings. You can improve driving by personalizing your spoken directions to ensure smooth, distraction-free navigation.