Are you wondering how to remove Siri from the touch bar on your Macbook? If yes, we have got you covered!
This article will teach you how to remove Siri and configure the device for a more simplified experience. Let's get started!
Can You Remove Siri from The Touch Bar?
Yes, you can remove Siri from your MacBook's touch bar. You can customize the device to your preferences and maximize its functionality by taking the required actions.
Take charge of the touch bar features to embrace a targeted and unique user experience.
How to Turn Off Siri on Your MacBook Touch Bar?
On your MacBook, Siri, Apple's virtual assistant, is a potent tool that can complete various tasks. However, you can easily turn off Siri if you think its presence on the Touch Bar is unneeded or distracting.
Here is a detailed explanation of how to accomplish it: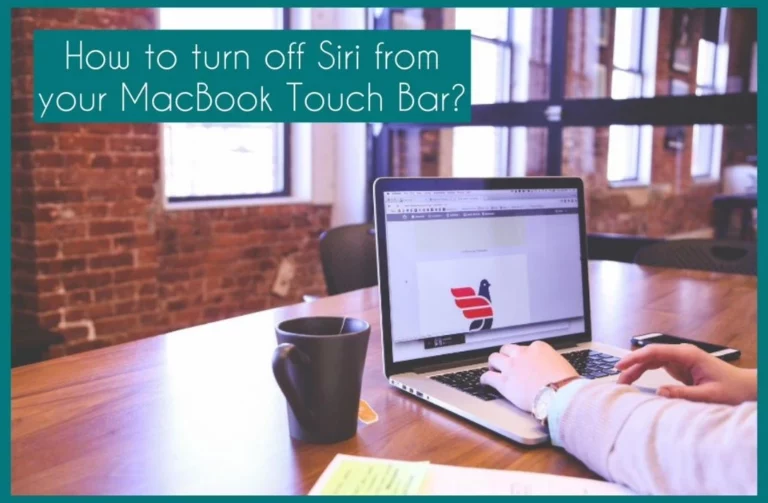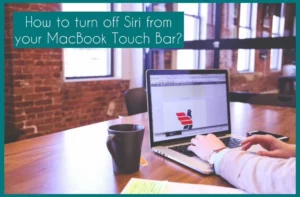 1. Open System Preferences
Click on the Apple logo located in the top-left corner of your screen to get started. Select "System Preferences" from the menu that will now display.
2. Access Siri Settings
Click the "Siri" icon in the System Preferences box. By doing this, you can access Siri's settings menu and change how it behaves.
3. Adjust Siri Activation
You may modify how Siri is enabled using the choices found in the Siri settings. You'll probably want to uncheck both the "Enable Ask Siri" and "Show Siri in menu bar" settings if you want to turn off Siri on the Touch Bar.
4. Customize Keyboard Shortcut (Optional)
You may create a unique keyboard shortcut to activate Siri if you want to keep its features while removing it from the Touch Bar. Siri can still be used in this way as necessary, freeing up space on your Touch Bar interface.
5. Confirm Changes
Close the System Preferences window after making the necessary adjustments. Your modifications will immediately go into effect and remove Siri from the Touch Bar.
6. Test the Changes
Go to a program where the Touch Bar is in use to make sure Siri has been effectively disabled. The Siri icon and all associated Touch Bar menu items should be gone.
You can personalize the Touch Bar experience on your MacBook by carrying out these easy steps. By changing these options, you can enhance the operation of your smartphone, whether you desire a simpler interface or another way to access Siri.
If you decide to reactivate Siri on your Touch Bar in the future, remember that you can always go back to the Siri settings in System Preferences. With these few steps, you may have a more customized and distraction-free computing experience.
Alternative Methods to Access Siri without the Touch Bar
There are other ways you can use to access Siri's functions if you've disabled Siri on your MacBook Touch Bar: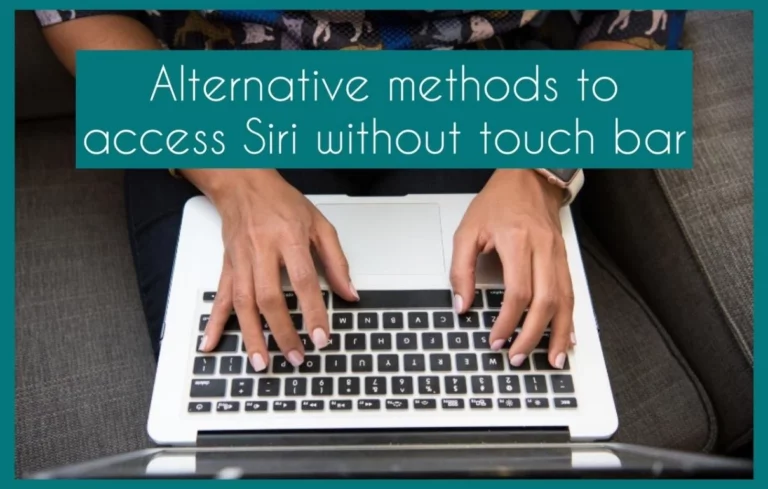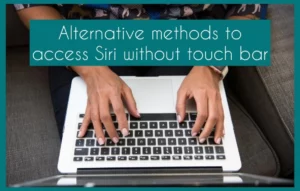 1. Voice Command
You can activate Siri with your voice by holding the "Command" key and the "Space" bar. With this keyboard shortcut, Siri will provide instructions or ask queries without the Touch Bar.
2. The menu bar
Activate the Siri menu bar icon. To accomplish this, select "System Preferences"> "Siri" and select "Show Siri in menu bar." When enabled, you can launch Siri by clicking on the Siri icon in the top-right corner of your screen.
3. Dock Shortcut
Drag the Siri app icon to your Dock from the Applications folder. The interface for Siri can also be opened by clicking on the Siri icon in the Dock, giving quick access to its functionality.
4. Shortcut on the keyboard
Create a unique keyboard shortcut to call up Siri. Activate "System Preferences" and select "Keyboard"> "Shortcuts"> "App Shortcuts." Select "Siri" as the program, click the "+" button, and designate a special keyboard shortcut. Without using the Touch Bar, you can instantly access Siri in this method.
5. Mac's Siri Button
If your Mac has a physical function key row, you can launch Siri by pressing the "F4" key. This key offers a specific way to invoke Siri and often has a Siri icon on it.
6. Spotlight Search
Press Command and Space keys to open the search bar in Spotlight Search. Simply enter your request or command, and Siri will deliver pertinent results or carry out your instructions immediately.
Even if you remove Siri from the Touch Bar, you can still use its features thanks to these substitute techniques. Whether you prefer utilizing voice commands, keyboard shortcuts, or menu bar icons, Apple offers several practical and effective ways to communicate with Siri.
Conclusion
Use these suggestions to customize your MacBook experience. You have the power to enhance functionality, whether you want simplified navigation or a different way to access Siri. Utilize your device to its fullest potential by making personalized decisions promoting a smooth, distraction-free workplace.