Are you trying to find out how to set the custom alarm sound on your iPhone? You've come to the right place if you're sick of hearing the same old default tones when you wake up.
In this article, we will walk you through customizing your alarm sound so you can wake up to your favorite music or another special sound that appeals to you. It's simpler than you might think to personalize the alarm on your iPhone!
Can You Have Custom Alarm Sounds on Your iPhone?
Yes, you can have custom alarm sounds on your iPhone. With the help of this feature from Apple, users can select their favorite tunes or unusual sounds to wake up to, creating a more wonderful and customized morning routine. Customizing your alarm sound is a great way to start your day off.
Steps to Set up a Custom Alarm Sound on iPhone
On your iPhone, follow these steps to set a custom alarm sound:
1. Select or Create Your Sound
There are two ways to choose a unique alarm sound. You can pick a song from the library or make a unique sound with a sound-editing app or your chosen music-making software.
2. Select a Song from Your Music Library
Open the iPhone's Clock app.

Next, tap on the "Alarm"

option

located at the bottom of the screen,

In the top-right corner, click

"+"

to add a new alarm.

Click "Sound."

Click "Pick a song."

You have the option to select a song from your music library.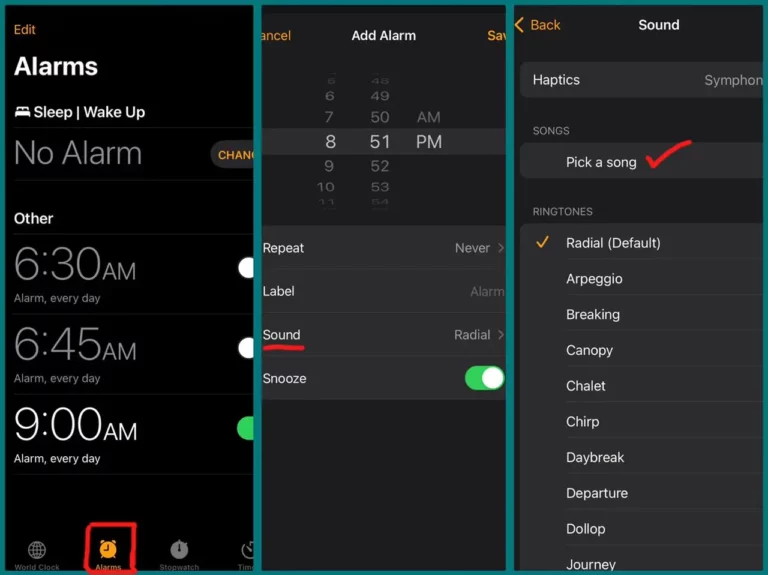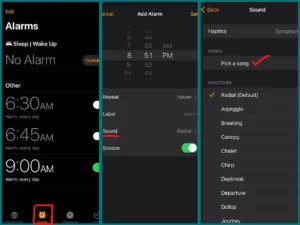 Note: Ensure your Music library contains the sound you want to add. To add sound to your music library, follow the steps given below.
3. Design a Unique Sound
If you like a unique sound, you can make one with your preferred music-making software or a sound-editing app. Save the audio in a supported format, like M4R.
4. Import Unique Sound
On your PC, open iTunes.

Using a USB cable, connect your iPhone.

In iTunes, click on your device.

Select

"Tones"

in the left sidebar.

Drag and drop your custom sound into the Tones section.

To send the sound to your iPhone, click "Sync."
5. Select a Unique Alarm Sound
Return to the iPhone's Clock app after choosing or creating your unique sound.

Select the alarm you wish to edit or create a new one by tapping

"Alarm"

on the menu.

Click "Sound."

Go to

"Pick a song"

again and find the sound you created from any app.

Select the sound you want to add.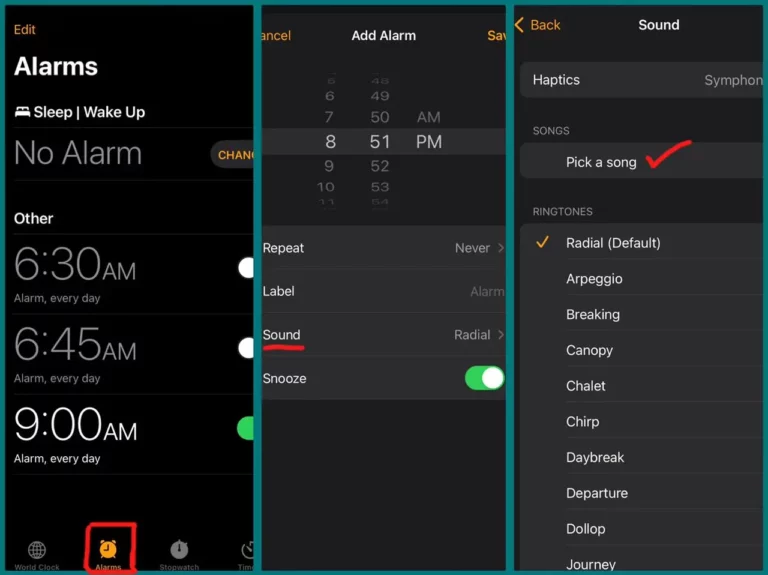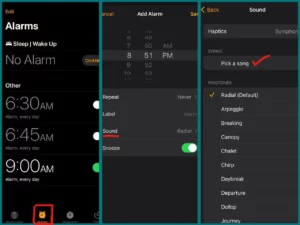 6. Modify Alarm Settings
In addition to choosing your own alarm sound, you can also change the alarm time, the length of the snooze, and the label. Make sure your alarm is set according to your preferences.
7. Save Your Alarm
Once you've selected your custom alarm sound and made the necessary settings, don't forget to touch "Save" to ensure your customized alarm is set up for use.
8. Enjoy Your Unique Wake-up Sound
After completing these steps, you can take pleasure in waking up to the unique alarm sound of your choice. Your mornings will now begin with a special touch, whether it's your favorite music, a soothing tune, or a distinctive sound.
Different Types of Alarm Sounds
On your iPhone, you can select a variety of alarm sounds, each created to a distinct set of preferences and requirements, to wake you up or notify you.
1. Default Tones
The default tones on your iPhone are the built-in alarm sounds that Apple offers. They come in a range of tones, from calming melodies to more energetic selections.
2. Songs from Your Music Library
You can choose any song to use as an alarm sound from your music collection. This is a fantastic way to include your favorite music in your wake-up routine.
3. Custom Sounds
Using sound-editing software or apps, you can make your own alarm sounds. Due to this, you have total control over the sound you wake up to.
4. Voice Memos
A voice memo can be recorded and used as an alarm sound. An encouraging message or the voice of a loved one might provide a personal touch.
5. Instrumental Music
You can choose instrumental music, classical songs, or background recordings for a more relaxing wake-up experience.
6. Vibrations
Some people would rather use vibrating alarms than any kind of sound at all. Without making an audible noise, the iPhone will vibrate to wake you up.
Best Alarm Sound on iPhone
There are many different types of alarm sounds that you can choose from. Some people prefer soothing sounds, like the sound of waves crashing on the shore. Others prefer more jarring and loud noises, like a fire alarm.
The type of alarm sound you choose is entirely up to you. However, we recommend trying out a few different sounds to see which one is the best fit for you.
Beeping
Birds chirping
City sounds
Ocean sounds
Relaxing music
Running water
Singing birds
Traditional alarm clock sound
Conclusion
On your iPhone, you can set a customized alarm sound for a quick and easy way to start your day. You can customize your mornings with various options, including tunes, unique sound effects, and even voice recordings. Make your wake-up routine more enjoyable with a sound that you like.